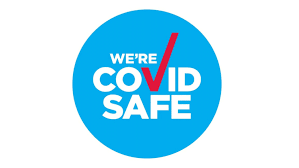 The Northern Inland Academy of Sport (NIAS) is an incorporated, autonomous, community based organisation established in November 1992 to identify and prepare talented sportspeople in the Northern Inland region to reach their maximum potential, on and off the field!
Mission: To provide opportunities, pathways and access to skill development, Athlete and Coach support services that will develop individual potential, and support those identified talented sportspeople in making the transition to higher levels of competition and performance.

Our mission is achieved by providing talent development programs, support and activities to sport in the region. This assistance helps our athletes overcome major disadvantages compared to their city counterparts. Disadvantages include the tyranny of distance, lack of access to quality coaching on a regular basis, inadequate regular high quality competition and limited exposure to state sporting bodies.
The Northern Inland Region: Whilst the NIAS office is based in Tamworth, NIAS services the New England North West region of NSW. This includes Tamworth, Armidale, Glen Innes, Inverell and as far north as Tenterfield, Moree, Narrabri, Gunnedah and surrounds. You can see a map of the service area below (where the Northern Inland area is in yellow at the top of the map)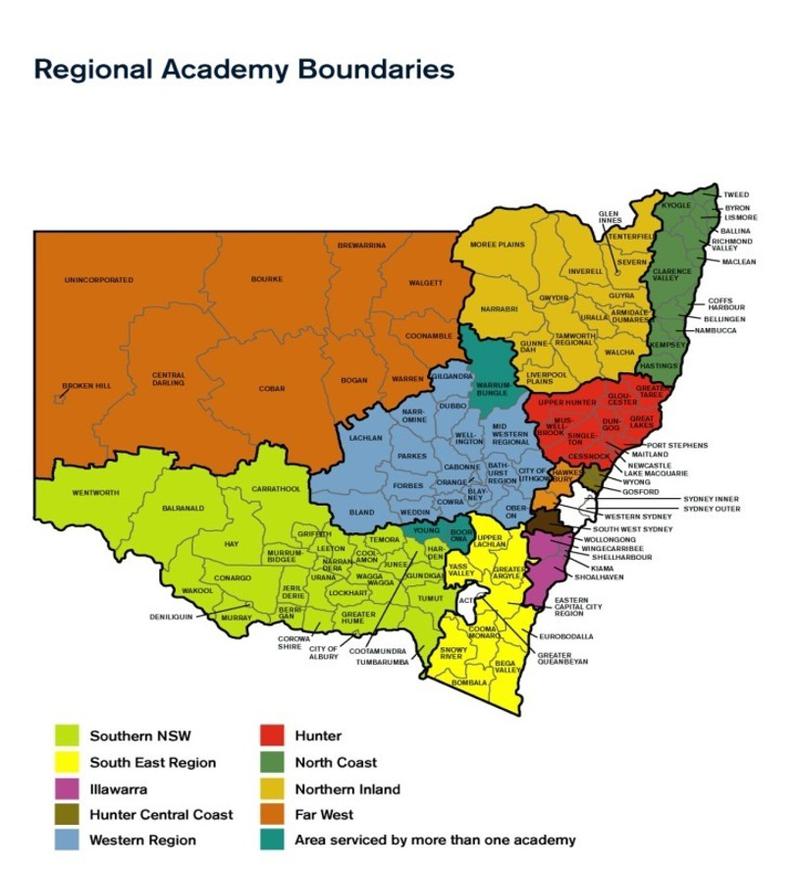 Commitment Statement
The Northern Inland Academy of Sport (NIAS) is committed to the safety and wellbeing of all children and young people who participate in our activities. We take seriously our responsibility to deliver a sporting environment that is caring, nurturing and safe. We support the rights of the child and will act at all times to ensure that a child safe environment is maintained.
We have zero tolerance for harassment, discrimination, bullying, child abuse, and all allegations and safety concerns will be treated very seriously and consistently.
We have specific policies and procedures in place that support our athletes whilst assisting our staff, board members and volunteers in achieving these commitments.
KEY OPERATION STRATEGIES
Athlete and Coach support strategies
The 5 key strategies by which the NIAS delivers sport services to the Northern Inland NSW Community are:

Structured Program Of Regional Talent (SPORT): Quality programs conducted in the Northern inland region of NSW in partnership with regional and state sporting bodies. Programs underpin NSWIS or other state based underpinning development programs.
Individual "Lonestar" Scholarship Program: Individual cash and support scholarships for high performing state and national ranked athletes who reside in the region. In 2014 8 athletes from 8 different sports were provided with scholarships.
Athlete subsidy and financial support scheme: Financial support to assist Academy athletes and their families defray the cost of participating in Academy programs via sponsorship from Clubs NSW North West and the NIAS. Cash support was also provided for NIAS athletes at State and National level.
Coach Development: Subsidies to program staff to increase their skills and attend relevant courses.

Administration Structure
The Academy covers the whole of the North West of NSW from Tenterfield in the North, Ebor to the East, Coonabarabran in the West and Quirindi to the South. The Academy's administration base office is in Tamworth. An 8 member volunteer Board oversees the running of the Academy with the day to day operations undertaken by an Executive Officer, a Sports Program Manager and a Marketing and Communications Officer. Athletes and other key stakeholders are the focus of continuously improving practices, ensuring the most up to date and professional support is continually provided to the athletes and sports programs.
Marketing and Promotion
The Academy is a community based organisation that relies on the support of the region to continue to offer increased opportunities to talented young sports people. Sponsor recognition, community servicing, fundraising events, media and public relations are integrated to ensure a consistent and professional image for the Northern Inland Academy of Sport.
Current Programs
The Academy currently coordinates 11 programs, AFL, Athletics, Basketball, Cycling, Golf, Hockey (boys and girls), Netball, Rugby League, Rugby Union, Tennis and an Individual Scholarship Lone Star program to identify and support 280 athletes and 42 coaches in the North West/New England. The Academy utilises the support network and links in with other providers of sport development to administer the programs. Coaching development pathways are provided via the NIAS and coaches are encouraged and supported to develop their skills and knowledge. The Academy, where appropriate, ensures that sessions and activities are conducted throughout the region at various locations.
THE NIAS OFFICE TEAM
Shona Eichorn
Chief Executive Officer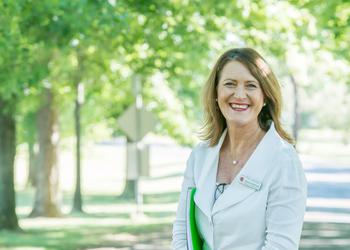 After being the first CEO NIAS had when it first opened its doors in 1992, Shona Eichorn (then Shona nee Blok), has returned to NIAS in this position after evolving considerably in that time, just like the Academy. Since leaving NIAS in 1997, Shona has worked in the corporate sport and education (secondary and tertiary) sectors, small business, and volunteered in many sports & other organisations in the New England and beyond, particularly cricket, rugby and netball. Welcome back to the team Shona!
Brent Hartley
Sports Programs and Events Manager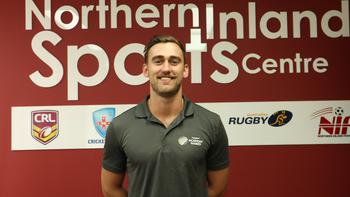 Hailing from the heart of Gunnedah, Brent has always had a passion for sports and health. He has been heavily involved in a range of sports across the North West area both throughout his childhood, and more recently. It was only natural then that his sporting enthusiasm lead him to graduate from the university of New England with a Bachelor in Sports Management. Brent aims to use his knowledge and experience to give back to the community, not only in the north west region but beyond.
Emmelene White
Marketing, Communications and Engagements Officer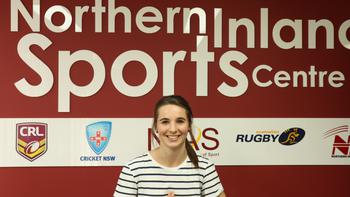 Em has been engaged in sports from a young age and has played hockey, netball and athletics, amongst others. She has also represented NSW for throwing javelin. Her love of sport and her creative mind led her to completing a Business degree with a double major in Sports Management and Marketing. After spending two years on the Gold Coast, volunteering at the 2018 Commonwealth Games and completing an internship with Squash Australia, Em has joined us in Tamworth and we are thrilled to have her at NIAS.
LIFE MEMBERS
Robert Lewis (Board Member) 1999
Lou Daneili (Media Support) 1999
Stephen Griffith (Board Member) 1999
Kevin Anderson (Media Support) 1999
Roy Powell (Board Member) 1999
Chris Kiely (Board Member) 1999
Margaret Corbett (Netball Support) 1999
Richard Webb (Softball Head Coach) 1999
Craig Redmayne (Ruby League Head Coach) 2000
Harold Heffernan (Board Member) 2001
Bob Hickson (Board Member) 2001
Jeff AldrIdge (Touch Head Coach) 2001
Janet Mason (Netball Head Coach) 2001
Scott Dickson (Boys Soccer Head Coach) 2002
Rochelle Joyce (Netball Association Coach) 2003
Mark Golledge (Board Member) 2003
Julie Fuller (Netball Association Coach) 2004
Wally Franklin (Board Member) 2005
Gaylene Ryan (Board Director) 2006
Kim Preece (Girls Soccer Head Coach) 2006
Ruth Brock (Netball Manager) 2007
Jo Van der Vliet (Netball Head Coach) 2007
Terry Psarakis (Board Member) 2007
Phil Wheaton (Academy Support) 2012
Diane Gray (Board Member) 2019
Mike Rabbiitt (Media Support) 2020
BOARD OF DIRECTORS
Chris Ash (Chair)
Gaylene Ryan (Deputy Chair)
Terry Psarakis
Ashlee Van Katwyk
Diane Gray
Michelle Morgan