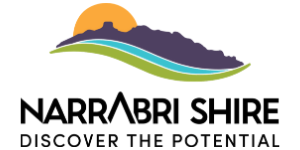 Narrabri Shire Council
Narrabri Shire is conveniently located halfway between Brisbane and Sydney. It is two and a half hours from the Queensland border and is well serviced by road, rail and air. The Shire's largest town of Narrabri is positioned on the crossroads of the Newell and Kamilaroi Highways.
Narrabri Shire has a population of some 14,000 residents and covers an area of around 13,000 square kilometres. It is located in the heart of the Namoi Valley in the North West slopes and plains of New South Wales. The town of Narrabri is the administrative centre of the Shire. Set against the backdrop of the Nandewar Ranges and on the banks of the Namoi River.
Visit the Narrabri Shire Council website here.
To keep up to date with all theNarrabri Shire Council Community updates, go to their media centre here.