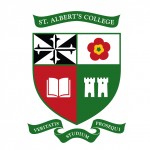 St Alberts College
Our students enjoy a range of opportunities across our vast five-block residential and recreational facilities. With meals provided in the Dining Hall, very large and fully serviced individual rooms, tutorial and conference rooms, spacious student lounges, a popular barbecue area, free parking and more, you are sure to find your needs are covered at Albies.
We support all aspects of student life, and encourage your academic, sporting, cultural, and spiritual pursuits.
Register now with UNE Accommodation to join our thriving community!