Cycling Squad take to Awaba for Superflow weekend
Our first squad to return to fac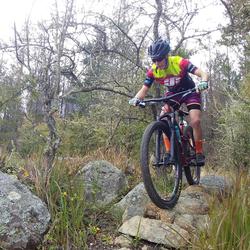 e-to-face trainings in June was our Cycling squad. With a few training sessions under their belts, some of our mountain bikers were lucky enough to attend a competition in July. Over the weekend of the 11th and 12th July, some of our mountain bikers made the drive to the Awaba MTB Park (near Newcastle) for the Rocky Trail Entertainment Fox Superflow weekend. NIAS had Kalean Blair, Lachlan Marsh, Lawson Walsh and Joshua Deasey competing in the Junior U15's category. In the Junior U17's category was Campbell Walsh who raced against 62 other riders and in the U13's category was Ashton Scales. Lachlan Butters competed in the hardtail category on the Sunday. It was a very wet and muddy Saturday for racing, giving the athletes some good practice in these conditions. Here are the results from the weekend:
Lachlan Butters (Tamworth) came second in the Hardtail category
Kalean Blair (Uralla), Lachlan Marsh (Tamworth), Lawson Walsh (Inverell) and Joshua Deasey (Kootingal) competed in the U15's where they placed 8th, 12th, 13th and 16th respectively
Ashton Scales (Gunnedah) finished in 15th place in the U13's category
Campbell Walsh (Inverell) competed in the U17's and finished in 36th place where he was up against 62 other contestants
Overall they each did well to brave the muddy conditions at Race One in the Superflow event series. The next Superflow weekend will be held on the 8th August at Jolly Nose in Port Macquarie.