Ex-NIAS athlete Emily Wooster Scores UNE Scholarship
Northern Inland Academy of sport ex-'Cycling NSW' Cycling athlete Emily Wooster has received the NIAS/UNE Sporting scholarship to assist with her growth and development outside of the sporting arena. Just over 12 months ago, Emily was gearing up to ride in Canada at the XCO Mountain Bike World Championships. As her first-time representing Australia, Wooster said "Being a part of the Australian team was a fantastic experience as you get to engage with so many others engrossed with what you love to do. The trails were amazing over there and extremely different to what I regularly train on. It was a challenge that was rewarding beyond expectation".
Wooster has been mountain biking since she was 9 years old and joined the NIAS in 2014. Whilst she has dappled in other sports, getting on the bike has remained her favourite thing to do because of the adventure and mental and physical challenges that it brings. With what is generally an individual sport, being an athlete in the NIAS was the first team environment she was involved in for cycling. Wooster has since gone on to join many other cycling teams over the years, with her current team being the Motion Orbea MTB Team. Being able to have a team surrounding you in an individual sport is highly valuable, with Wooster saying her team "inspire me everyday with their courage and determination in an incredibly challenging sport".
On top of her dedication towards mountain biking, Wooster is currently studying a Bachelor of Education majoring in French and English at UNE in Armidale. Enjoying the supportive community found at UNE, Wooster has also become a part of the UNE Sports Academy high-performance pathway to help her continue achieving in her sporting goals.
Congratulations Emily on your achievements and receiving the Northern Inland Academy of Sport/University of New England Sporting Scholarship.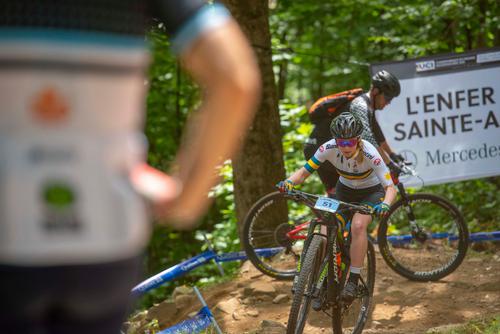 Photo: https://www.facebook.com/HixitPhoto/