Football
NIAS 2021/2022 Applications open
Applications for the 2021/2022 NIAS FC programs are OPEN! Please click the yellow 'APPLY' button the right to submit your application form.

(or at the bottom of the page for mobile users)
NIAS School Holiday Clinic Days
Important Changes!
Please see updated day/times for the clinic days, with Inverell, Tenterfield and Narrabri clincis having been cancelled. Young footballers from these areas are welcome to join the other clinic days operating in Glen Innes, Moree, Gunnedah, Quirindi, Tamworth or Armidale.
There will be sessions held for those turning 5-8 years of age in 2022, and 9-12 years of age in 2022. Both registered and unregistered players are welcome to participate.
Clinic Days offer support from qualified coaches, skill development activities, development of gameplay knowledge and a ball for each participant!
Cost of the day: $60
Please Note: Registrations Close Friday 21st January 5pm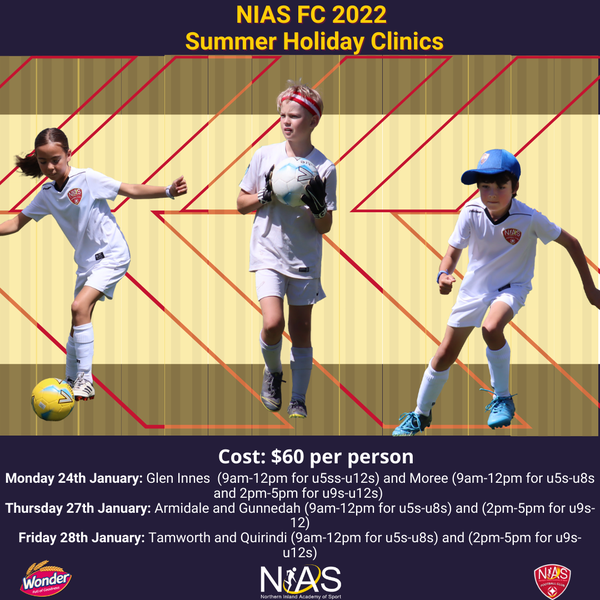 To register your interest for these days, please fill out the online form by CLICKING HERE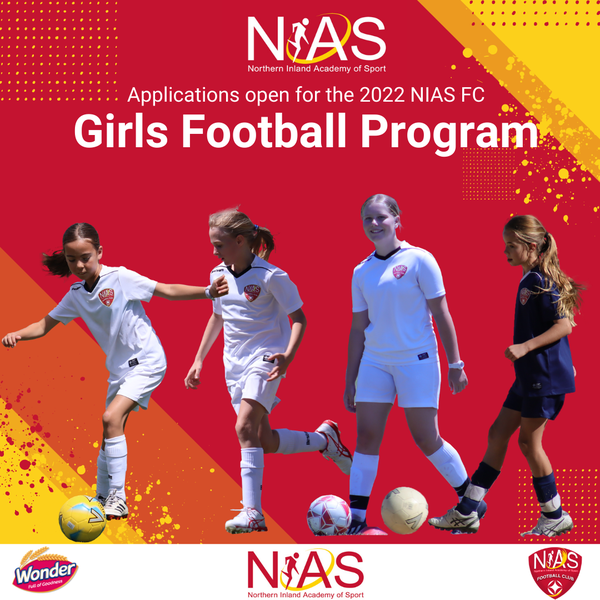 NIAS Girls Football Program
NIAS will be operating a girls football program in 2022. This program will enable girls turning 11-16 years of age in 2022 (born 2011 - 2006) the opportunity to enhance their playing skills. The program will provide the athletes with 6 x monthly training sessions, access to high quality coaches, access to athlete education, ticket to the Academy Awards Night, NIAS clothing pack and much more!
To register click the yellow apply button!
NIAS has partnered with Northern NSW Football to deliver football programs across the New England and North West region of NSW including the Tamworth hub that operated through 2021.
The following programs will be offered for 2022:
- NIAS FC Junior U7s and U8s (born 2014-2015)
- Skill Acquisition Program (SAP): U9, U10, U11 and U12 years (born 2010-2013)
- Junior Development League (JDL): U11 and U12 years (born 2010-2011)
- Northern League 1: U13, U14, U15, & U16, - (born 2006-2009).
Important Change for 2022 NL1 Programs!
NL1:
Northern League 1: Weekly training sessions will be for NIAS FC athletes only!
As NIAS' involvement in the Northern League 1 compeititon is for local development and player pathway, the academy won't be offering training support for athletes competing for teams out of the region.
NIAS encourages all athletes to support the pathway that is faciliated for aspiring athletes residing in the North West/New Enlgnad reigon.
Athletes may be invited & supported by NIAS for weekly training sessions if requested or talent identification from Northern NSW Football.
You may see an additional breakdown for program offerings HERE
NIAS FC Weekly Training Days 2022
Please see below for training days/times for each squad.
Tamworth
Quirindi Girls SAP - Every Monday and Wednesday (18:00 - 19:30)
U7's and U8's - Every Wednesday afternoon (17:00-18:00)
SAP - Every Wednesday and Friday afternoon (18:00-19:30)
JDL - Every Tuesday and Thursday afternoon (18:00 - 19:30)
NL1 - Every Tuesday and Thursday afternoon (18:00 - 19:30)
Coach Nominations for the 2020/2021 season are OPEN. Download the form here.
If you require more information, please contact the NIAS office.
To stay up to date with application and program information Like us on Facebook and follow us on LinkedIn.
Stay Tuned for Squad Announcements!
Application Details
Who is Eligible
This program is offered to both Boys and Girls for all age groups out of four hubs: Football Gunnedah, Football Tamworth, Football Armidale and Football Inverell. All four of these hubs will have the following programs offered:
- NIAS FC Junior U7s and U8s (born 2014-2015)
- Skill Acquisition Program (SAP): U9, U10, U11 and U12 years (born 2010-2013)
- Junior Development League (JDL): U11 and U12 years (born 2010-2011)
- Northern League 1: U13, U14, U15, U16, U17 and U18 years - (born 2004-2009).
When filling out your application below, please use the drop down arrow to select the correct Football Hub as your sport (i.e Football Tamworth, Football Gunnedah, Football Armidale or Football Inverell).
Selection Process & Criteria
The number of athletes selected into each squad will be determined by age group requirements under the direction of the state sporting body (Northern NSW Football). Selection criteria will be based on the following skills:
1st Touch quality
Off ball awareness
Off Ball movement
Endurance- 20m shuttle run or similar test
Decision making with the ball
Passion to succeed and attitude towards learning
Speed
Receiving/performing under pressure
Defensive/attacking skills.
1 V 1
Striking the Ball
Running with the ball
Program year
Scholarship offered is for a 40 week period for all programs other than the junior program which will be 30 weeks. The program will operate across the calendar year to November 2022 (and in alignment with the football season). Training sessions will be run 1-2 times a week dependant on individual programs. Training sessions will be either 60 or 90 minutes in duration, program dependent. Please note all training sessions are compulsory, exceptions are made for illness, injury, school excursions and competing at a high level football based event. An email must be sent to your head coach with a copy to the NIAS Office prior. Failure to attend and abide by NIAS program expectations may result in the loss of your position in the 2021/2022 NIAS Football program.
The 2021/2022 program will see players in the u7s-u12's ages have training sessions with NIAS FC, and playing with their local club for weekend matches (excluding JDL)
Please find below the confirmed dates for the 2021/2022 Football Program.
Trials will be held in September/October 2021 (Date TBC)
Program content
Skill sessions and camps are held both within and outside the Northern Inland New England region throughout February to December. The skills program follows a structured approach concentrating on a range of individual skills early in the program which lead into team skills involving concept skills and game strategies. Quality coaches ensure that the program remains fresh and interesting and athletes build new skills across the program.
Fitness sessions focus on the importance of building core strength to improve posture, balance and technique.
Sessions will be held in the respective hub areas being Gunnedah, Tamworth, Armidale or Inverell.
To view a break down of the content offered for each program, please CLICK HERE
Program Outcomes
This program is designed to provide athletes with increased skills and education to better prepare them for competition nationally and internationally. The program aligns with the national pathway. i.e The Northern League 1 program aligns with the pathway through Northern NSW Football as part of the Football Federation Australia's (FFA) player pathway to high performance.
Appeals
Subjectivity is an unavoidable element in all selections. Athletes who feel the selection criteria has not been adhered to should be aware that NIAS has a formal 'Appeals' process available.
Contact NIAS if you would like to make an appeal and recieve feedback on your application.
Athlete Benefits:
Intensive training support by quality coaches
NIAS Football Club clothing pack
Strength and Conditioning Support
Travel Assistance to attend out of region camps
Financial assistance if selected into a national team
Athlete Levy scholarships due to financial hardship are available (reach out to NIAS for further info)
Athlete Commitment
Attend all program training sessions/ related activities
Football is number one sport while on scholarship
Be committed to a holistic approach to their development, both on and off the field
Comply with the training requirements and respond in a positive manner to any suggestion or criticism
Maintain an appropriate performance standard to continue to receive a scholarship
Behave and dress in a professional and dignified manner when representing the NIAS and its sponsors
Make yourself available (within reason) to sponsors and the media for promotional purposes
Adhere to NIAS anti-Doping policy
Maintain communication with NIAS and coaching staff as required
Cost
Costs for each program offered may include regional training, HP coach support, NIAS clohting pack, match play opportuntiies, out of the region tours, regional gala days, education support and a ticket to the annual awards night.
Costs per program that will be offered in 2021 (PLEASE NOTE THESE COSTS ARE INDICATIVE AND SUBJECT TO POTENTIAL CHANGES. The folowing costs are refelctive of 2021 programs and may be subject to change for 2022):
Junior Development Program:
Cost = $500 per athlete
Skill Aquisition Program (SAP):
Cost = $950 per athlete
Junior Development League (JDL
Cost = TBC
Northern League One (Newcastle):
Cost = $1550 per athlete
Football clothing packs will be provided specific to the squad outlined above.
We understand COVID-19 provides some uncertainty, however it is our priority to ensure each program is completed in full and will source avenues to make this happen. If this is unable to occur due to COVID-19, NIAS will look to provide partial refunds for what has NOT been provided.
Please note that NIAS offeres payment plans to best work with your situation. We're here to work with you!
When filling out your application below, please use the drop down arrow to select the correct Football Hub as your sport (i.e Football Tamworth, Football Gunnedah, Football Armidale or Football Inverell).
Applications
Open Date: 06 August 2021
Close Date: 12 August 2022

For further information please contact the NIAS office on 67 662526 or email nias@nias.org.au